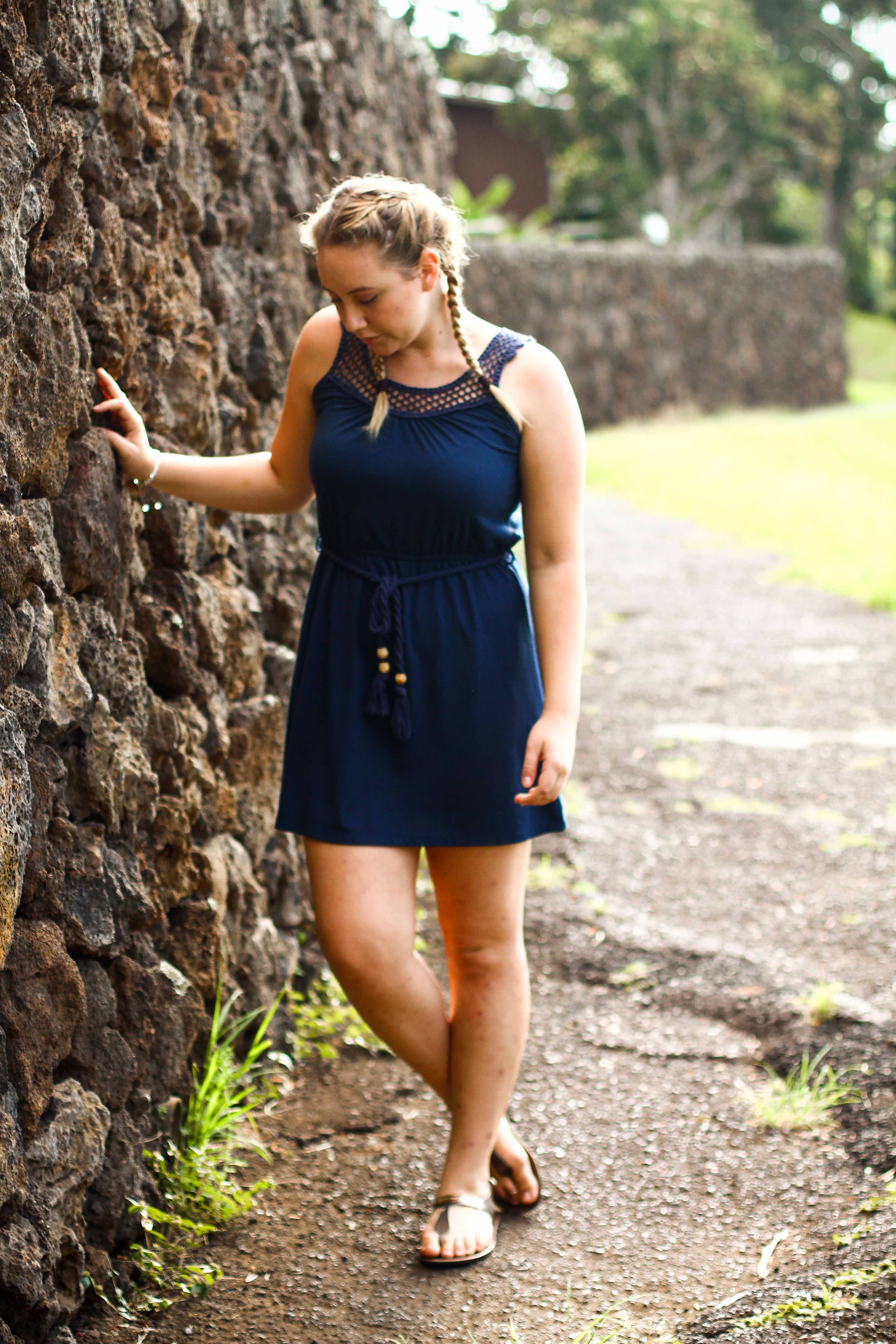 I love a good comfy dress so whenever I can find one I hold on to it. This particular dress is probably too old for me to still wear, but trust me when you find a solid dress why get rid of it? This outfit is so simple that it's almost stupid for me to explain. You grab a comfy dress, in my case a navy blue one with a cinched waist, a crocheted detail, and wooden beads attached to the twisted belt.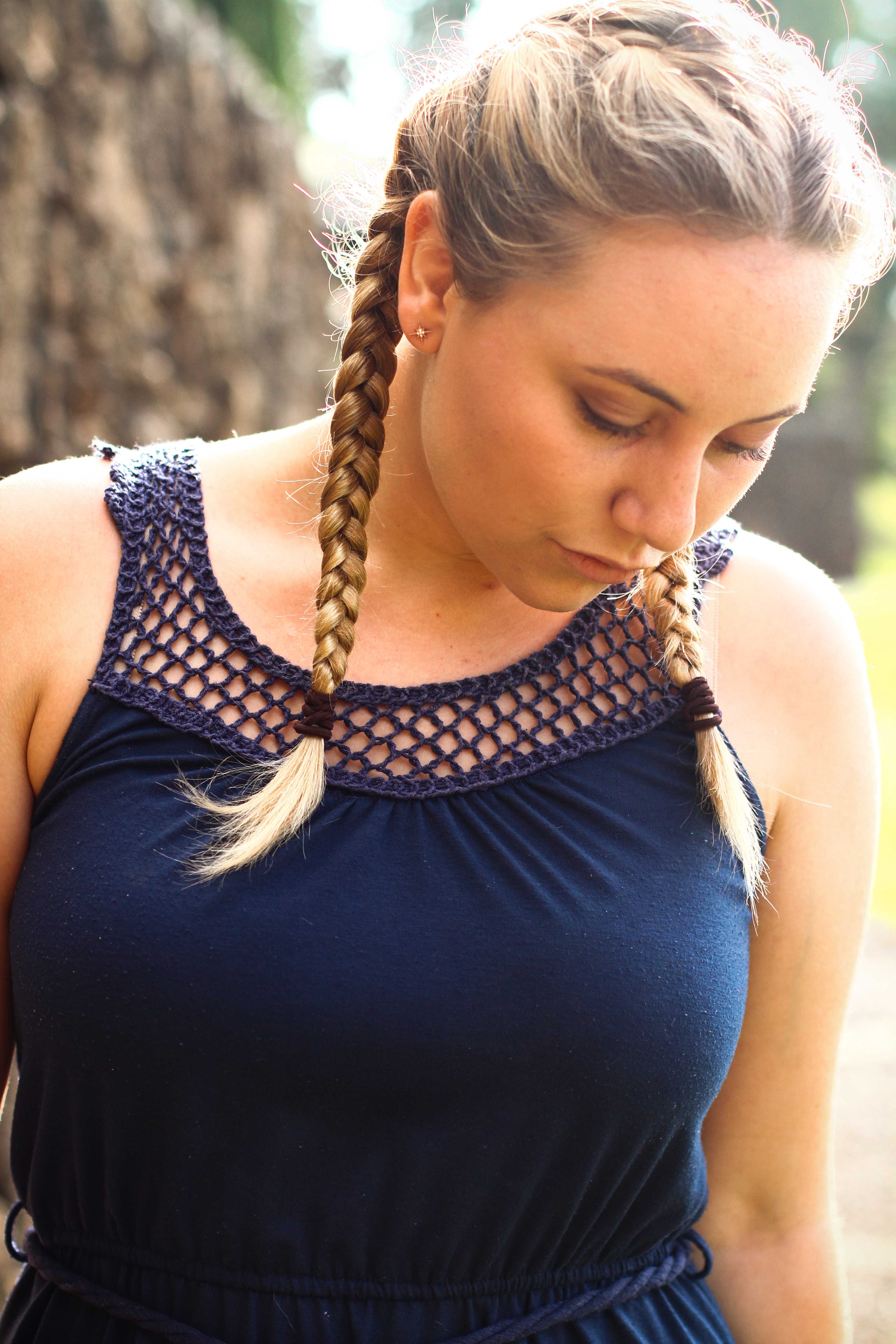 For accessories, I decided to really keep it simple. I love navy blue and bronze so I grabbed these cute little bronze colored star earrings with crystals in the center. I wear these earrings all the time since they are so simple. The perk of wearing smaller studs instead of big fancy earrings is that they are out of your way and won't get caught on your purse strap and nearly rip your ear off (true story!). I'm also wearing a beaded bracelet that I threw on to add some sparkle.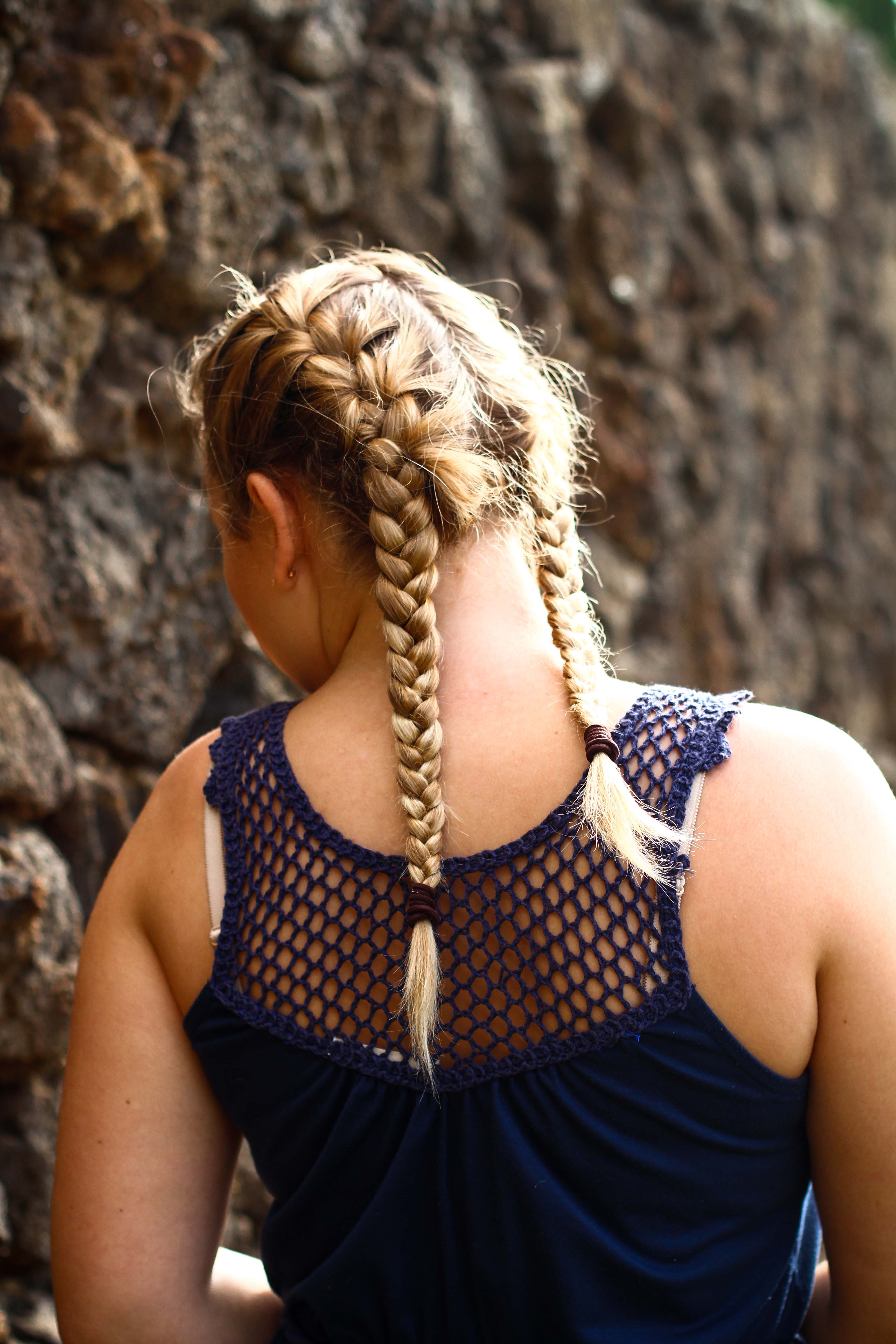 Even when wearing a simple dress, some sass is needed and that's why I love the crocheted detailing on the neckline of this dress. It's a cute way to add a little extra fun to a casual outfit. Another way to add sass to an outfit is with a detailed but functional hairstyle. I am all for natural waves every day of the week but sometimes I like to put my hair up in a style that isn't a messy bun. Double french braids are perfect for keeping your hair out of your face and still look really cool and complicated even though they are really simple. Keeping your hair up will also let you show off the cool details of your dress or maybe even a statement necklace if you're feeling frisky.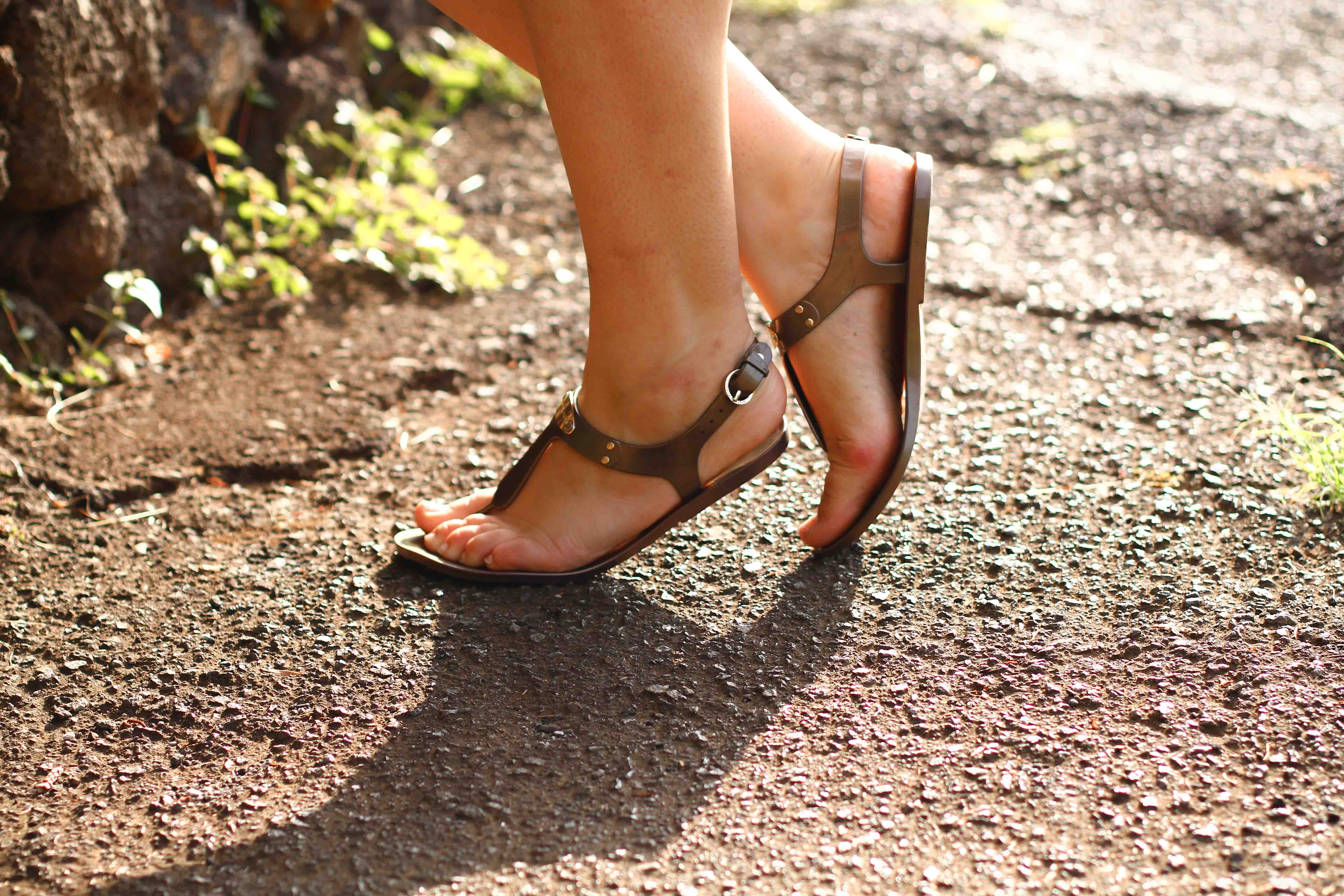 I stuck with my navy and bronze theme and wore my shiny brownish Michael Kors sandals. These are super comfortable and are perfect for warmer weather (not so great for snow, but it's still 80 degrees where I live). You can always add thick tights and boots to a dress if you need to be dressing for warmer weather. Plus, the trend is more leather or matte looking sandals so those would be another cute option.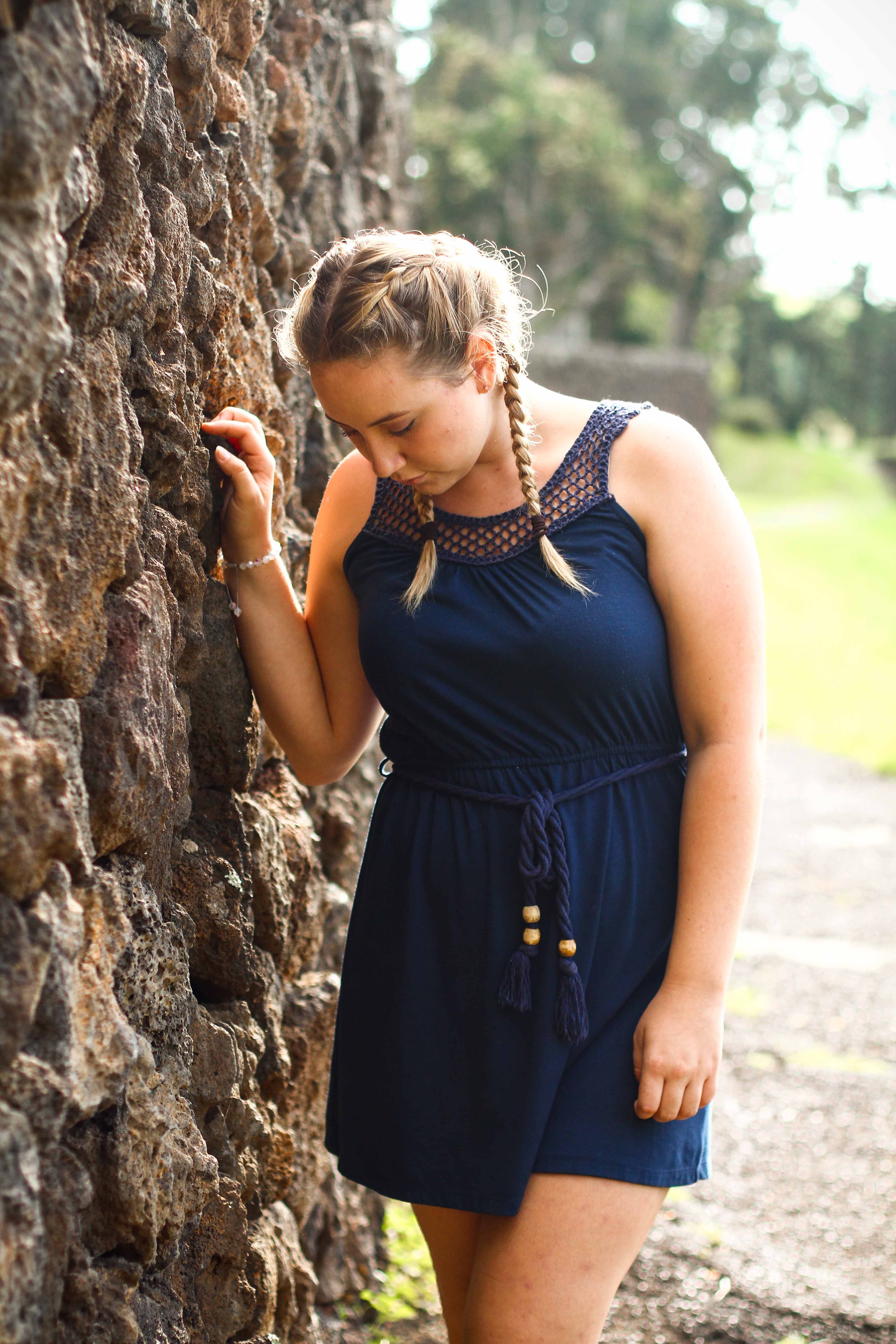 I absolutely love cute and comfy outfits because they truly are the best of both worlds. Smile! You look great.
Dress: TJ MAXX
Find similar navy blue ones here // here // here // here
Shoes: UNKNOWN
Find similar ones here // here
Earrings: BOUTIQUE
Find similar statement studs here // here
Photography by Elyse Fujioka
Check out more of her photography on tumblr or on instagram